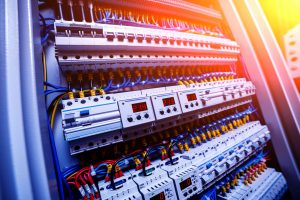 Excel Electrical provide a wide range of electrical installation, support and maintenance services throughout the country. Firmly established as a market leader today, our Kilkenny based firm provides the highest levels of quality service to our clients.
Established by Tipperary native and Irish Management Institute graduate, Donie Corcoran in 1996, Excel Electrical Ltd., has grown to become a leading electrical contracting company with a proven track record of delivering complex quality projects on time and within budget.
Excel Electrical Ltd carry out a diverse range of electrical projects across the spectrum and operates on a nationwide basis.
Our curriculum vitae includes electrical service installations across the following areas: research, healthcare, education, Department of Defence, financial institutions, residential developments, conservation, retail, call centres, commercial, general public buildings and public lighting.
Dedicated to providing our customers with the highest standard of service. We have staff of qualified electricians, engineers and quantity surveyors who are well known in the industry for their extensive technical knowledge and vast experience in dealing with even the most complex and challenging of site conditions.
Today Excel Electrical employs approximately 80 staff, all trained to the highest possible standards and are the company's most valuable asset. Many of our project managers have been with us for over 15 years.
Excel has worked with a large number of well-known main contractors and design teams across the country on a range of exciting and prestigious projects from art galleries to theatres to churches.  Our business is based on strong client relationships with reputation and trust at the core, always keeping in mind the company's motto of "getting it right first time – safely".
To that end, we have been successful in achieving ISO 9001, ISO 14001, ISO 45001 & OHSAS 18001 accreditation.
"These standards have assisted us by analysing and improving each element of our operation, from the selection of suppliers through to installation and commissioning.  Among the many benefits of ISO 9001, the standard has helped us to improve customer satisfaction levels, internal efficiency and employee involvement.
"Naturally, we feel it's very important to have proper quality, safety and management systems in place in order to help us to continue to expand as we look ahead to the future."
"The nature of our work in the construction sector can carry a higher risk of accident, injury or death for workers.  In these working environments increased vigilance is required to minimise the risks. Compliance to standards and achieving certification in the health and safety area goes a long way towards beginning to minimise the associated risks."
Excel Electrical's ISO 14001 certification ensures that the business focuses on its environmental impact, supported by effective management processes.  "In a changing environment the business benefits are very clear – greater resource efficiency and waste management means lower costs".
"We pride ourselves on customer satisfaction and working in partnership with main contractors and our clients. It's a testament to our quality of work that we have ongoing maintenance contracts in 80% of our completed projects."
"The security side of the company was established in 1999 and we are NSAI accredited to EN:50131 to install intruder alarm systems and SR40 for CCTV systems and Door Access systems.  Over the years, we've found that this side of the business is very important to allow us to provide a complete bespoke package to our clients be they smaller fit outs or large commercial facilities."
So across the complete Electrical installation sprectrum, Excel Electrical's staff has the knowledge and experience to ensure that all runs smoothly. We pride ourselves on our attention to detail and the flexibility and quality of the service we provide to all customers and clients.